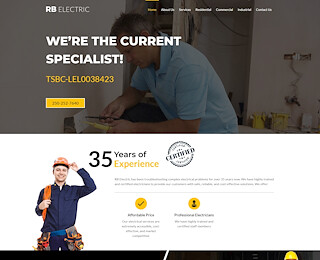 RB Electric is one of the best and electrical companies in Duncan, BC. For over 35 years, our expert electricians have been recognized to provide top class electrical services to homeowners and businesses in Duncan and the entire British Columbia area. Our ability to provide safe, reliable, and cost-effective solutions to customers set us apart from other electrical companies in Duncan, BC.
What Services Are Provided By Electrical Companies?
These are the services provided by electrical companies:
Lighting Upgrades And Repairs – With their many years of experience, our experts can identify and proffer solutions to the lighting systems of a house. We also provide lighting upgrades using new and proper light output that best fits a specific environment. They create the perfect lighting effect for your house like the ceiling light, bathroom light, bedroom light, wall and floor lights, and the chandeliers.
Electrical Panels For Improved Safety And Performance – Our qualified electricians also provide the best new panels, panels upgrade or replacement with a larger and safer ones for better performance and safety.
High-tech Equipment to Reduce Fire and Electrical Hazards – Aside from the basic home fire alarm system, electrical companies have new technology like heat-sensitive devices, a rate of rise detector, smoke detector and lots more. Our qualified electricians can install these to help reduce fire and electrical hazards.
Silver label Certification for Mobile and Module Homes – Silver label certifications are approval labels that are provided by the safety authority. This is the label that your house or your electrical appliances are certified.
Home Electrical Inspection When Purchasing Or Selling A Home – This is another great service offered by electrical companies. When purchasing a new house, there is need to have a thorough check of the house; the house wiring, connections and equipment. This will help you determine whether they meet the safety standards and in good working condition.
Hot Tub Electrical Installations – Planning on installing or upgrading a hot tub and spa in your house?  You want to be sure that it is installed correctly. Our trusted experts offer this service with great value. We install all types of hot tubs and water heaters.
Heat Pump Connections – Some house owners may be lucky to live in warmer climates, while others may have to deal with freezing temperatures during winter. In dealing with this freezing condition, electrical companies provide the service of heat pumps installation which is the ideal solution for you. You can always call on our experts at RB Electric for your heat pump installations.
Electrical Heat Installations And Repairs – When you need heat installation or replacement, you can count on the expertise of electricians at RB Electric. We offer installation of different types of electrical heat devices. With their experience, you can be rest assured of hazard free electrical heat installation. 
Contact Us Today!
For more information about our services, contact us today at RB Electric. We offer highly affordable, detailed, and prompt services. Our expert electricians will be available to discuss your needs. We guarantee you quality and excellent services.
Electrical Companies Duncan
Electrical inspection entails carrying out a detailed inspection on the various electrical components and connections in your home. The inspection team will take a comprehensive look at your electrical systems to ensure that everything is in excellent condition. At RB Electric, we provide professional electrical inspection in Duncan, BC.
Our highly trained, qualified, and certified electricians have the tools to inspect your electrical system. We also offer other services such as rewiring, electrical installations, lighting upgrades, electrical repairs, and so forth. No matter your electrical needs, we've got you covered.
What Is An Electrical Inspection?
During the electrical installations of your home, it is important to note some things. Various loopholes, unchecked points, all of this may be the reason of failing an inspection test/check later. To avoid this it is important to know about electrical inspection.
Electrical inspection involves inspecting your home, the electrical connections, electrical components, wiring, and making sure all these things are in a good working condition and do not pose as a threat or hazard to your home at large. Electrical inspection ensures all these things comply with the requirements or required standards of your state or area.
What Should I Expect From An Electrical Inspection?
From every house electrical inspection, you should expect thorough scanning of your home. Some of the things to expect from an electrical inspection are:
All electrical hazards check
Checking for outdated and exposed wires.
Checking for all safety switches to know whether they are in good condition.
Checking and noting all electrical items in the home that doesn't meet the standards or government regulations.
Panel check and testing power box.
Correction of minor safety and fire hazards
The summary and report of the inspection.
How Often Do You Need Electrical Inspection?
Did you notice any issues or electrical problems in your Duncan BC home? And you are trying to identify the source or how to tackle these problems, then it's high time you needed an electrical inspection. Some of the other occasions where you might need an inspection are:
When buying a new home, you need an electrical inspection in checking this new home. Making sure the home components is in good condition and has all the safety standards and electrical connections well placed.
You also need an electrical inspection when a large amount of renovations is about to be done in your home.
Old houses tend to need an electrical inspection check, if your house is over 25 years old. You should consider doing an electrical check.
When there are heavy storms, this often damage electrical appliances or components in the house. You will need an electrical inspection if your house has been affected by major storm damage.
Need Electrical Inspection In Duncan? Contact Us Today!
Schedule an appointment with us today at RB Electric for your electrical inspection. Our dedication team with be available to speak with you. We will provide expert advice and recommendation to improve upon and other safety measures. We guarantee you excellent services.
RB Electric remains one of the best and most reputable electrical contractors in Duncan, BC. For more than 35 years, our expert electricians have been troubleshooting complex electrical problems for home and businesses in Duncan and the entire British Columbia area.
Our highly trained, qualified, and certified electricians specialize in providing safe, reliable, and cost-effective solutions to both residential and commercial customers. Whether you are upgrading your lighting, repairing faulty sockets, rewiring your home, or carrying out new installations, we will get the job done excellently.
How Do I Know If I Need A New Wiring Installed?
As a house owner, knowing when you'll need a new set of wiring installed is very important. It is a big step in keeping you and your family safe from various risks as any electrical problems in the house can cause a lot of damages.
To know when you'll be needing a new wiring installed, you need to be on the look out and watch for some signs time to time.  When you notice these signs, then it's time you needed a new wiring installed.
Some of these signs to look out for are:
Sparks And Power Surge – Do you hear sparks? It is a bad sign, check out where this is coming from and get an electrician to look into it as soon as possible.
Smokes – When you notice burning socket or smokes from your house appliances, it is better to take action because if this continues frequently you could get the whole house burned.
Stained Outlets – This is another sign of old wiring, when the wiring behind the walls gets too hot every time. The outlets may appear stained or discoloration around them.
Burning Smell – Sometimes you may just start noticing a particular electrical smell around your house like a burning candle. This kind of smell might just means your wires are melting and need new installation.
Outdated wiring isn't good, and may damage your house appliances or pose safety issues at your house, consider installing new wiring.
Why Should I Hire A Professional To Install My Wiring?
House wiring can be dangerous, when installing your house wiring, it is best to get the job done by a professional. A professional knows things you don't know. You should know that your house wiring installation must be done in accordance to some applicable local and safety codes, and a professional knows these local codes. Some of the other reasons to hire a professional include:
They are fast and efficient.
A professional gets your job done correctly.
All the local codes and safety measures are checked.
Proper equipment and tools.
They also know about the latest technology and codes.
By hiring a pro, you get quality service while you also save money and power.
Contact Us Today!
Do you need reputable electrical contractors in Duncan, BC? Contact us today at RB Electric. Our services are affordable, prompt, and reliable. Our experts will be available to discuss your needs. We guarantee you quality and excellent services.